Asia's Health Care Sector Accelerates
The region's health care sector is setting a brisk pace for growth and innovation. Our team discusses the opportunity set.
"We are seeing more innovative health care business models coming out of India"
While Asia's tech companies tend to capture the media spotlight, the region's health care sector is also quietly setting a brisk pace for growth and innovation. The opportunities for companies that can help care for aging populations and treat chronic health conditions such as diabetes and heart disease continue to expand and grow. Meanwhile, the pandemic has brought new business models and new ways of delivering patient care to the fore. In this roundtable discussion, portfolio managers Taizo Ishida and Winnie Chwang, and senior analyst Haopeng Yang, PhD, share their insights on the growth of Asia's health care sector.
As a growth investor, what do you find most appealing about health care?
Taizo Ishida: Across Asia's health care sector today, we see a lot of diversity and innovation. As bottom up stock pickers, we have access to an ever-broader universe of companies with strong research and development capabilities, backed by skilled management teams. Today's health care upstarts may be tomorrow's benchmark constituents. While other sectors in Asia's regional indexes such as materials and financials tend to represent relatively mature industries, health care is a very young industry and regional indexes generally have not caught up to the sector's growth potential.
Health care can also play an interesting role in portfolio construction because companies in the sector can play either offense or defense, meaning some companies may have very high growth potential while other companies in the sector may offer steadier, less cyclical growth. While biopharma companies might be looking to create a blockbuster drug—one with more than US$1 billion in sales—the general nature of health care companies tends to be more defensive. The defensive nature of the sector may be somewhat underappreciated by investors. Patients still need access to health care in every market environment, so consumer demand is fairly consistent across market cycles. Accordingly, we see attractive growth potential and less cyclicality in health care.
In a young, emerging sector, private equity can be very appealing to investors. How has the public equity market for health care companies in Asia expanded in recent years?
Winnie Chwang: Within the public equities markets, the diversity of the health care sector has deepened considerably. We are able to find a broad spectrum of different types of health care companies through the public markets. Many of these companies are in very early stages of growth, just beginning to develop and monetize their intellectual property. That is one reason why we believe there is a long runway for growth among public companies. Looking at biotech alone, we believe this industry is still in an early stage of growth globally and that China will have a very meaningful role to play in the broader biotech and biopharma landscape. Many Chinese companies are doing global trials, seeking to get their products approved not only for their domestic market, but also for U.S. and Eurozone markets. IPOs among health care companies in Asia hit an inflection point in 2016, with a large group of new companies coming to the public market over the past five years. (See Figure 1.) The combination of talent, capital and a large addressable consumer market is a recipe for growth in our view for Asia's health care sector.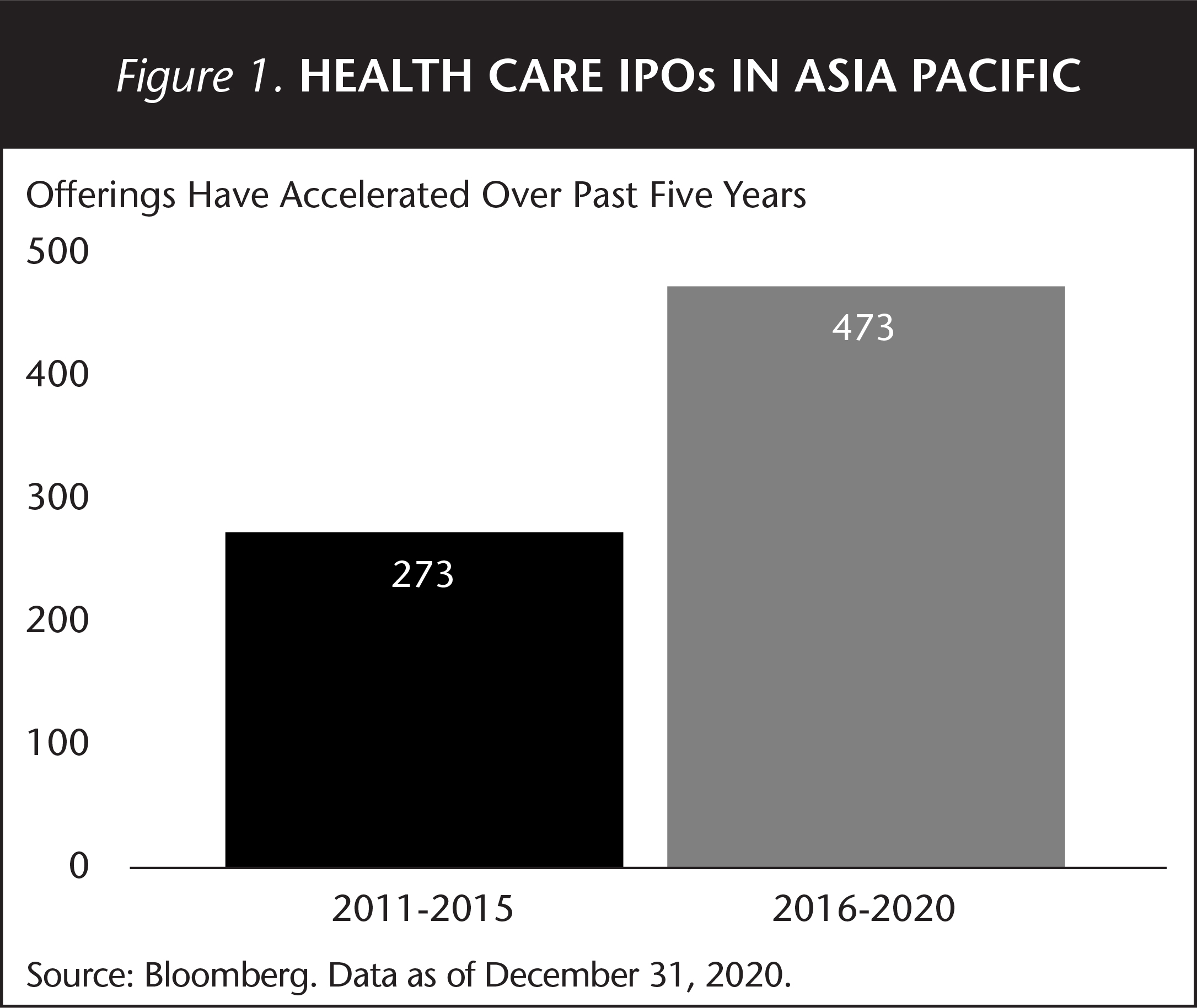 How does the size of the health care opportunity set in Asia compare to the U.S. and Eurozone?
Taizo Ishida: A simple metric we can look at is the size of the 15 largest health care companies in the U.S. and Eurozone, compared with the 15 largest in Asia. For example, the largest health care company in the U.S. had a market cap of about US$400 billion as of year-end, December 31, 2020. In contrast, the largest health care company in Asia had a market cap of less than US$100 billion. (See Figure 2.) While Asia is home to over half of the world's population, its largest health care company is still four times smaller than the largest in the U.S., suggesting tremendous growth potential to us. The sheer size of the patient base in Asia bodes well in our view for an uptick in health care spending, particularly as incomes across the region continue to rise.
It can also be helpful to consider the weight of the health care sector in the S&P 500 Index, compared with the MSCI Asia ex-Japan Index and MSCI Asia Pacific Index. At year-end 2020, health care made up nearly 14% of the S&P 500 Index, compared to less than 5% for the MSCI Asia ex-Japan Index and less than 8% for the MSCI Asia Pacific Index. In my view, the rising weight of health care companies in the composition of regional Asian benchmarks could happen much sooner than many people expect. The infrastructure and provider networks in Asia are still developing, and this build-out of the local health care ecosystem is likely to accelerate.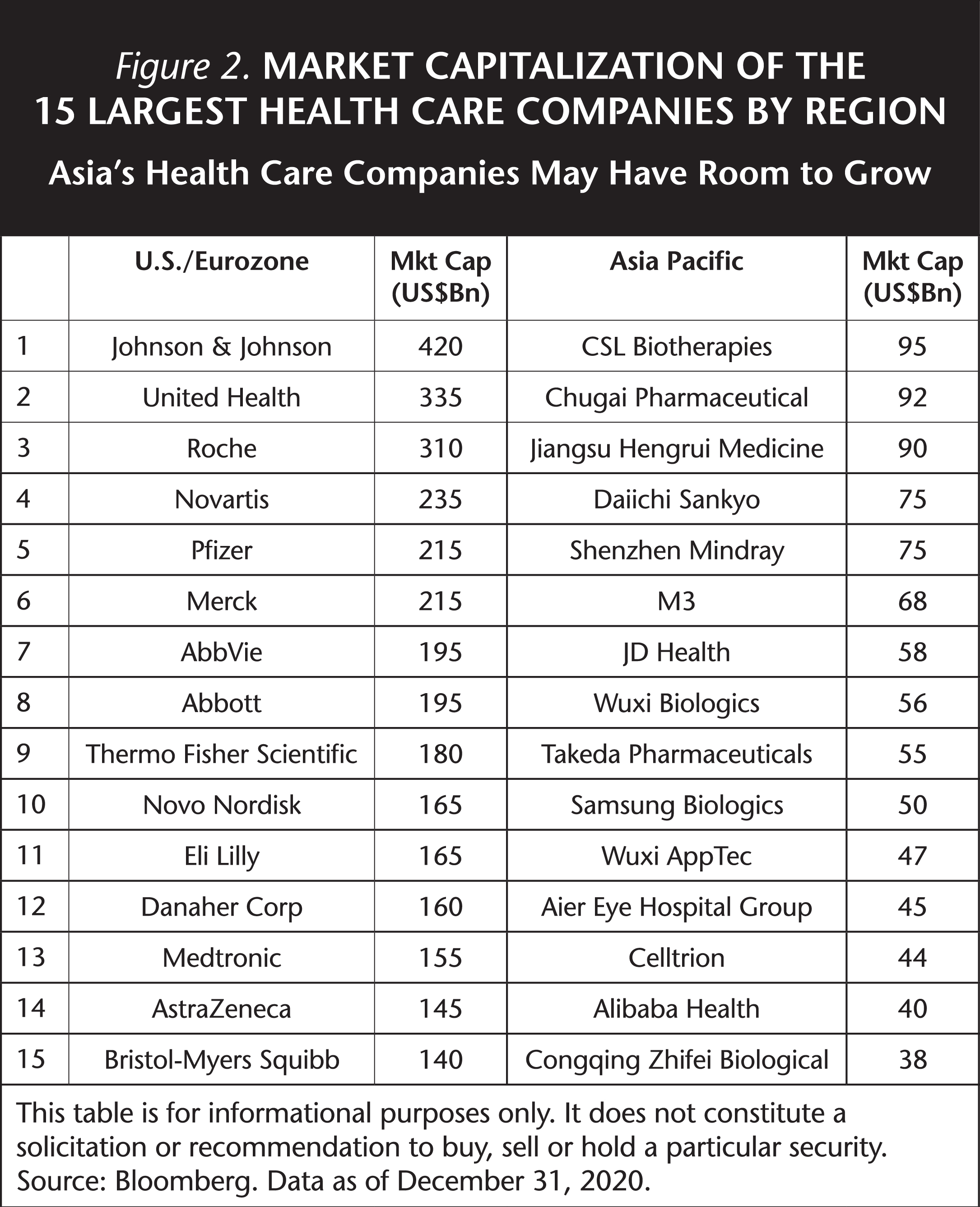 Why has China emerged as a notable source of IP generation in the region?
Winnie Chwang: China is a talent hub for the health care sector, as it generates the most STEM (science, technology, engineering and math) graduates worldwide. The World Economic Forum reports that Chinese college graduates earned 4.7 million STEM degrees in 2016, compared to 2.8 million for India and less than 600,000 for U.S. This produces a large talent base for organizations that conduct STEM research in China, which is good for innovation in health care, as well as technology more broadly. We also see that earlier generations of Chinese scientists who once went abroad to study have now come home to mainland China to work and conduct research.
Apart from pharmaceutical companies in China, what are some other growth areas that you follow?
Winnie Chwang: The health care sector is becoming more diverse every day. The opportunity set includes innovative drug makers, service providers such as contract research organizations and private hospitals, diagnostics providers and medical device makers. (See Figure 3.) While generic drug prices are under regulatory pressure in China, prices for innovative drugs are holding up better as Chinese policymakers seek to foster health care innovation by both necessity and design. Innovative drugs are typically patent protected and focused on meeting a specific, underserved patient need or a treatment area in which the drug maker can improve on existing therapies. Turning to contract research organizations, these businesses facilitate a lot of the research and development for hands-on clinical trials for innovative drugs coming through the pipeline, so our broader research team is paying particular attention to the rise of research and development overall in China as a long-term, secular investment theme. Diagnostics is also an area with tremendous growth potential. It increasingly makes more sense for hospitals to outsource diagnostic services to third-party providers that can reduce costs through economies of scale. Finally, we also see opportunities in areas such as medical devices for treating conditions such as cardiovascular and orthopedic disease. Over the long run, we see opportunities for better run device makers to grow and consolidate market share.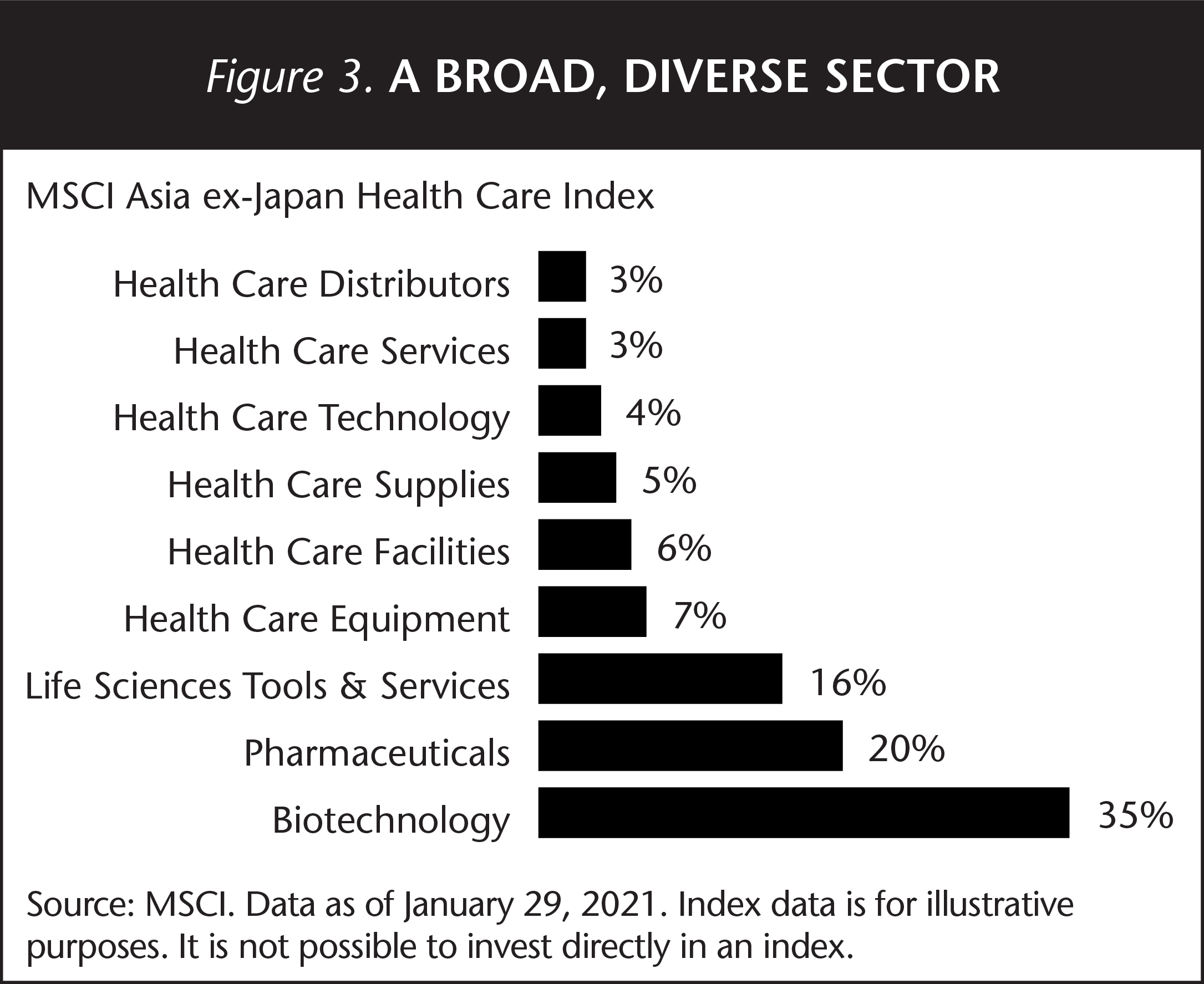 How is Japan innovating in health care?
Taizo Ishida: Regenerative medicine is a very fertile area of research. Japanese Nobel Laureate Shinya Yamanaka, for example, is conducting research into stem-cell therapies. With a focus on regenerative medicine, many Japanese research teams are aiming to introduce entirely new categories of treatment. We also see opportunities in Japan in areas such as med tech. Health care administration and operations are often very inefficient, so companies that help service providers improve their operational efficiency have an important role to play in managing costs and improving patient care.
Where will the next generation of health care companies arise in Asia?
Haopeng Yang, PhD: India and South Korea are two markets that we also watch closely. For a long-time, India's health care sector was predominantly associated with manufacturing generic drugs, but this is starting to change. We are seeing more innovative health care business models coming out of India, including contract research organizations, where intellectual property has an important role to play. South Korea is another market that often flies under the radar for global investors. We are seeing some innovative health care businesses emerging in South Korea. In addition to developing health care solutions for domestic consumers, some South Korean companies are exploring products that can be marketed globally.
How did the pandemic affect Asia's health care sector? And what are some of the most pressing health care needs facing Asia?
Haopeng Yang, PhD: Hospitals bore the biggest impact. Amid the pandemic, patients with non-life-threatening conditions were often put on waiting lists, so this delayed and deferred some medical treatments. Delaying procedures had a negative impact on any businesses that support hospital operations. On the other hand, the need for these medical services hasn't disappeared and we expect hospital operations to normalize as vaccines become more broadly distributed globally.
On the acceleration front, the adoption of solutions such as online pharmacy services and virtual doctor visits expanded rapidly during the pandemic. For health care consumers, many things became more convenient, such as seeing your doctor by video conference for chronic disease management. Furthermore, the need for diagnostics and therapies related to COVID will remain with us for many years to come, even as infections rates become much lower globally.
In terms of ongoing health care needs, caring for aging populations is high on the list for Asia. By 2035, more than a quarter of the population in Japan, China and South Korea will be over the age of 65. (See Figure 4.) This age wave is creating strains on Asia's health care systems, as well as opportunities for innovative companies to help meet those needs. Chronic disease management for conditions such as diabetes and heart disease is also a growing issue, as well as oncology.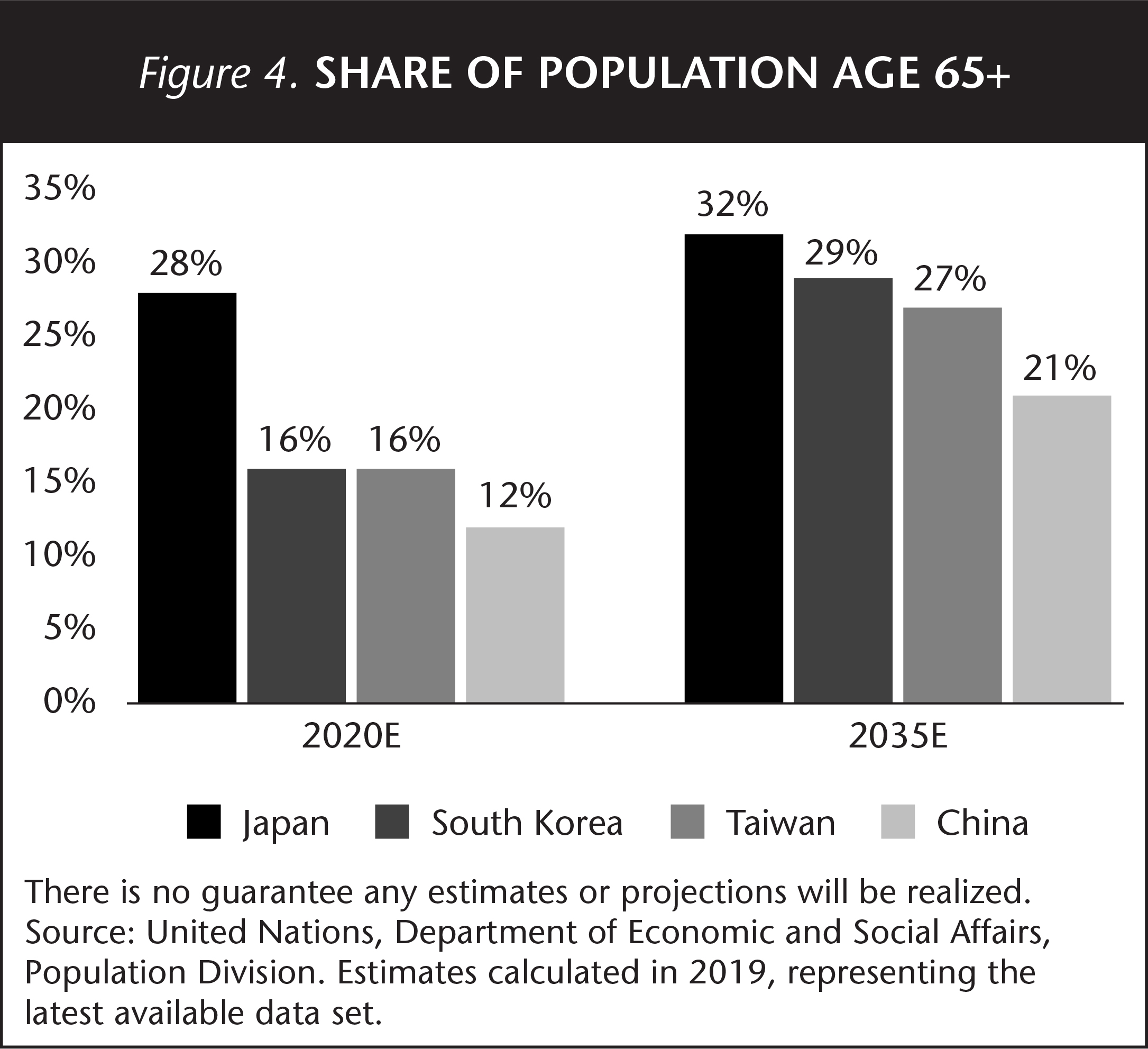 What are some risks of investing in the sector and how do you mitigate those risks?
Taizo Ishida: Valuations can be high in parts of the sector. While we are very cognizant of valuations, a high valuation alone isn't necessarily an indication of higher risk, in our view. If a company competes on innovation, maintains its competitive edge, meets its milestones and executes well on its vision, then its stock price has the potential to continue growing, even if current valuations appear high by conventional metrics. The greater risks we tend to worry about occur when a company begins to lose its competitive edge, miss important milestones in its product rollouts or fails to deliver on its stated purpose and vision. Within a diversified portfolio, the sizing of a holding is one way of managing risk. For companies that are not yet generating cash flow because they are in the very early stages of growth, keeping position sizes smaller can help mitigate the business risk. In contrast, companies that are cash-flow generative might be candidates for larger position sizing. We are very cognizant of looking for companies that can steer their own course because they are doing something new and innovative, as well as meeting a clear need for health care consumers. To us, this underscores the importance of building portfolios through active security selection, one company at a time, rather than just relying on top-down themes.
What's on the horizon for health care companies in Asia over the next three to five years?
Winnie Chwang: Many health care companies we track have significantly increased their spending on research and development, an investment that we expect will generate future gains in the form of expanded intellectual property and deeper competitive moats. Among contract research organizations, there is a growing need for services that can facilitate clinical trials for innovative drug makers. We expect demand to continue to rise for these companies and that the better managed companies will gain market share. We also see how some advances in Asia's health care sector are being accelerated by the e-commerce giants in the region.
Taizo Ishida: We also expect the use of artificial intelligence to expand in the health care sector. Companies already use software to discover new types of drugs by analyzing data sets that may be too large for humans to analyze on their own. This added computing power is speeding up the drug discovery process and enabling more customized solutions as well, based on the needs of individual patients. In addition, we expect that the sector itself will continue to diversify and expand domestically within Asia. Consider an area as basic as dental care. There's still a huge opportunity to sell dental implants in China, where implants are not yet mainstream. Finally, some health care companies in Asia continue to expand their addressable market by thinking about their consumer base more globally. We believe Asia's health care sector has a long trajectory for growth, given its drive toward innovation and huge consumer base.