Across emerging markets, urban consumption provides ballast and stability to a number of sectors and industries.
Great cities have proven resilient and adaptable time and again, even when faced with great challenges. As a "new normal" of daily life evolves amid the pandemic, the economic health of emerging market economies remains connected to their largest cities. From everyday necessities to consumer upgrades, we believe understanding consumer behavior within cities is crucial when investing with a long-term view in the emerging markets. The spending power of middle class urbanites provides ballast and stability to a number of sectors and industries across the broader universe of emerging markets.
Cities Remain Cultural and Economic Powerhouses
Wuhan, a metropolitan area with a population of 11 million people, was thrust into the harsh international spotlight earlier this year. Prior to the pandemic, the city gained little media attention. However, Wuhan is among nine cities exceeding 10 million inhabitants in China alone. The provincial capital was deeply bruised by the coronavirus. However, schools, businesses and government services in Wuhan have opened more quickly than other megacities worldwide. In addition, Wuhan remains a bustling commercial, manufacturing and transportation hub as well as a center for tertiary education. Despite the economic and health care challenges associated with the pandemic, it is unlikely that urban living goes out of style over longer time frames.
Any assessment of growth opportunities in emerging markets necessarily starts with their largest cities, where the vast majority of their wealth is concentrated. Based on the UN's latest data (2018), 31 of the world's 40 largest cities are located in emerging markets. Megacities are the economic engines of emerging markets. In many cases, they are also political capitals, like Mexico City, Moscow or Manila. Others, like Shanghai, Mumbai or São Paulo, are distinguished as global commercial powerhouses, international or even supra-national in character. Collectively, they represent a trend toward massive urbanization in emerging markets. By 2030, the UN projects that the urban population of the world's frontier and emerging markets will exceed 4 billion, or around 57% of these populations.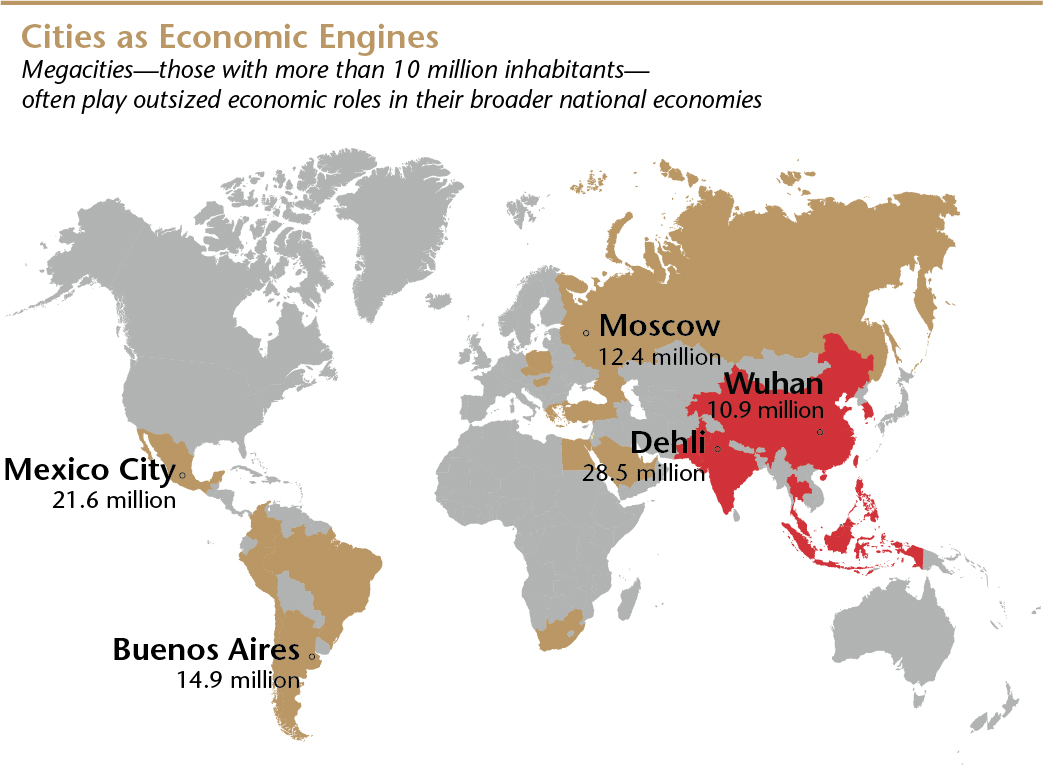 Urban Culture Cuts Across Borders
Although many are separated by oceans and time zones, the world's megacities tend to transcend their linguistic, cultural and political differences. Thanks to the internet, social media and the ubiquity of smartphones, fashion, cultural and consumer trends reverberate around the world at amazing speeds. The key barometer of growth in emerging markets is a rise in discretionary income, which enables a growing consumer class to absorb and assimilate trends and influences from other countries. A woman earning US $25,000 a year in Shanghai may be willing to spend a considerable amount of her disposable income on South Korean cosmetics because it is relevant for how she sees herself and for how her friends see her.
Everyday life in large emerging market cities follows similar patterns and is governed by similar social contracts—whether it is Moscow or Seoul, people are accustomed to living in densely packed, close quarters and making the most of comparatively small spaces. They shop for food daily rather than stocking large freezers, and may rely on scooters, taxis or ride-hailing to get around rather than private cars. The density of emerging market cities is favorable to innovative businesses that can master a combination of technology and "last mile" viability — food and grocery delivery, for example.
Density Creates Opportunity
Emerging market megacities are hotbeds of social change and incubators of innovation. They attract young strivers in search of opportunity. Large cities on different continents share a concentration of skills and higher education levels. By many accounts, entrepreneurial activity is more pronounced in emerging markets than in developed economies, largely out of the sheer necessity to find solutions to challenging problems. Growing technological fluency accelerates entrepreneurship. As a 2018 World Economic Forum Report noted, "more pressing needs create better conditions for radical innovation and rapid scale." While the COVID-19 pandemic has presented considerable public health challenges for many of the world's largest and densest cities, cities remain important engines of economic growth and innovation globally.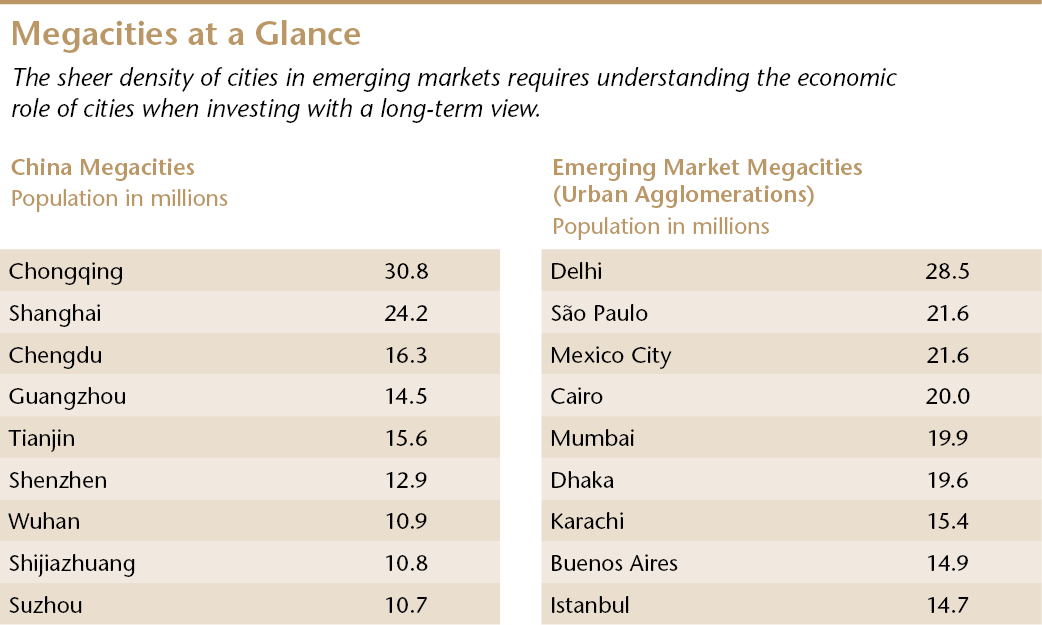 John Paul Lech
Matthews Asia
Portfolio Manager

Sharat Shroff
Matthews Asia
Portfolio Manager