Geopolitics, the COVID pandemic and government policies have made India more attractive to manufacturers. Read Portfolio Manager Peeyush Mittal's update.
Over the last two decades, India has made dramatic progress in pulling a substantial portion of its population out of poverty and raising the per capita GDP from approximately US$500 in 2003 to US$2257 in 20211. The Modi government's focus on making India a manufacturing destination for the world is aimed at sustaining these trends for the next two decades.
India's central and state governments are actively trying to resolve the challenges that have deterred foreign investments in manufacturing in the past. The central government's focus on improving road and rail logistics is aimed at reducing the cost of logistics to manufacture in India. Similarly, many state governments are creating 'land banks' which can in turn be made available to corporations to establish manufacturing plants or factories without substantial delays in the land acquisition process. The Modi government has created greater economic incentives for corporations to consider India as a manufacturing destination. They started with the corporate tax cut in 2019 where the base tax rate was reduced from 30% to 22% and from 18% to 15% for new manufacturing units. Recently, the government announced a production linked incentive (PLI) plan that offers cash incentives to multinational companies to establish a manufacturing base in India.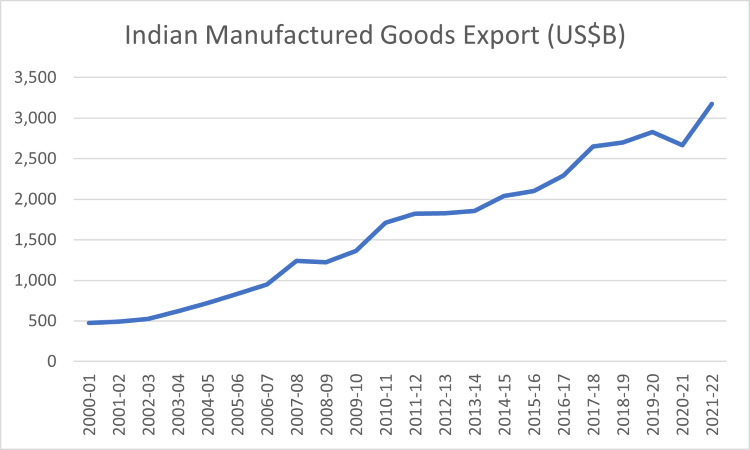 Source – CMIE, Ministry of Statistics & Program Implementation (India)

Amid many positive policies, there continue to be challenges which deter corporations from establishing new plants and factories in India. Complicated labor laws are one such challenge. While the government has made progress in simplifying labor codes, there is more to be done on this front. Lack of skilled labor is another such issue. With manufacturing becoming more digitized and automated, there is an acute shortage of vocational training institutes that keep the labor force abreast of technological advancements in manufacturing that are vital to remain competitive as a manufacturing hub.
Aside from the steps taken by the Indian government, certain geopolitical developments over the last 12-24 months are forcing corporations globally to consider India as an attractive manufacturing destination or sourcing destination. The COVID pandemic and associated prolonged shutdown in China was one such event. Over the last few decades, China has become the world's factory with some industries, such as consumer durables, having 80-90% of their sourcing located there. These global companies are realizing that in order for operations to be sustainable, such a large dependence on one country for sourcing needs to be changed and must become more diversified, even if it is more costly. Second, a lack of visibility into energy availability is forcing corporations in Europe to consider diversifying their manufacturing footprint away from there. In recent months and quarters, this trend is beginning to manifest strongly in electronics and in industrial parts. The largest consumer electronics player globally, Apple, has doubled its iPhone shipments out of India in April-Dec 2022 compared to prior 12-month period and it is also actively considering start of iPad production in India.

Source – CMIE, CEIC (India)


We at Matthews remain confident of the strides India is making in developing the manufacturing ecosystem in the country. Although there may be short-term hiccups, we think long-term manufacturing growth in India is likely to remain higher, for longer.


Peeyush Mittal, CFA
Portfolio Manager
Matthews Asia


As of January 11, 2023, Matthews Asia Funds held no positions in Apple (AAPL)
https://economictimes.indiatimes.com/news/india/india-lifted-415-million-out-of-poverty-in-15-years-says-un/articleshow/94926338.cms?from=mdr
1 GDCCPIND series from Bloomberg
https://www.cnbc.com/2022/12/05/apple-explores-moving-some-ipad-production-to-india.html
https://www.bloomberg.com/news/articles/2023-01-09/iphone-exports-from-india-double-to-surpass-2-5-billion