Biden & China: Building Back Better?
Sinology explores how U.S. – China relations can develop under President-elect Biden's administration in three key phases.
Putting U.S. – China relations back on a constructive path will be one of the top foreign policy challenges facing the Biden administration in 2021. I expect an almost immediate, modest improvement in the relationship, because I expect Biden to abandon the current administration's approach of treating the Chinese government as an enemy. Converting that into a systemic improvement in the relationship between the world's two largest economies will be a far greater challenge, and will depend on how Xi Jinping views his country's long-term role in the world.

Restoring the U.S.' leadership role in Asian trade negotiations would contribute greatly to American prosperity and security. The recent absence of the U.S. from the region was highlighted a few days ago by the signing of the Regional Comprehensive Economic Partnership (RCEP) trade agreement, which includes many American allies and partners, as well as China, but not the U.S.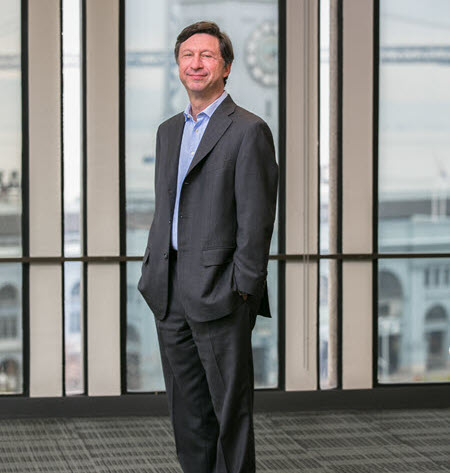 It will be important for Biden to restore the U.S.' leadership role in Asian trade negotiations, which would contribute greatly to American prosperity and security.
First, COVID and macro updates
Before we dive into foreign policy, I'd like to provide a brief update on two other important topics.
The coronavirus remains largely under control in China. There has not been a COVID death since mid-April, and only 374 patients were in hospital as of November 15, down from 58,016 on the February 17 peak. (There were 69,864 COVID patients hospitalized in the U.S. on November 15.) Minor outbreaks continue to appear in China, to which the government has responded with massive testing and contact tracing.
Because COVID is largely under control in China, people have been able to resume a largely normal life, and a V-shaped economic recovery has been underway for eight consecutive months. Chinese consumers are back: auto sales have recorded six months of double-digit year-over-year (YoY) growth, and new home sales have risen YoY for the last six months, after falling 39% during the first two months of the year. Long lines in front of popular restaurants are back, as are traffic jams. Sales at restaurants and bars increased 0.8% YoY in October, the first month of YoY growth since the outbreak began, and compared to a 46.8% fall in March. Consumers are gradually feeling more comfortable gathering indoors.
All of this with only modest fiscal and monetary stimulus.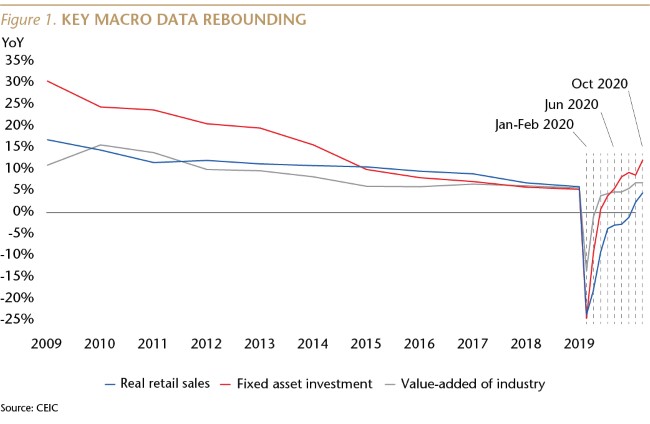 The three phases of Biden-Xi
I expect U.S. – China relations to develop over three phases under the Biden administration.
Phase I: Changing rhetoric
I anticipate an almost immediate improvement in U.S. – China relations once Joe Biden moves into the White House on January 20. This will be an easy, first phase, as it will be the result of what Biden and his team will not say.
The current administration has demonized China, calling it an enemy and an existential threat to America. The Biden administration will not say that, and will instead describe China as a competitor.
The current administration has advocated regime change in China. The Biden administration will not.
The current administration has cast the bilateral relationship in ideological terms. I expect the Biden administration to take a pragmatic approach.
This change in rhetoric will be important. Simply not calling China an enemy will take the chill off the relationship, creating space for both Biden and Xi to consider what concrete steps they are willing to take. This may also comfort some American investors, who, in recent times, may have felt that the language of the current administration raised the political risk of investing in Chinese equities and bonds.
Phase I may also include the reversal of some recent policies which are 'own goals,'—damaging to the American economy and society. One example would be the end of the current administration's hostile rhetoric and policies towards foreign students, which has led to a sharp decline in the issuance of student visas.
The U.S. Department of State reports that its issuance of student (F-1) visas to Chinese applicants declined by 29% in the government's 2019 fiscal year compared to the 2016 fiscal year. And it wasn't only Chinese students who decided to go elsewhere (pre-COVID): over the same period, F-1 visas issued to Indian students fell by 30%, and total F-1 visa issuance declined by 23%.
In the September 15 issue of Sinology, I discussed research which concludes that immigrants are key to American innovation and job creation, and that the U.S. "has received an enormous net surplus of inventors from abroad, while China and India have been major source countries."
In another step that could be accomplished without Congressional action, Biden is likely to quickly follow through on his campaign pledge to rebuild the U.S. Centers for Disease Control and Prevention (CDC) office in Beijing, which was largely dismantled by the current administration.
Biden is also likely to quickly resurrect the Fulbright exchange and Peace Corps programs in China, both of which were recently terminated by the current administration. These programs primarily benefit the U.S., by providing opportunities for Americans to better understand China.
Phase II: Space to develop a long-term strategy
A rhetorically warmer relationship will create opportunities for both Biden and Xi, but Phase II will likely develop slowly, as Biden will be focused on domestic health and economic issues.
I expect that one of Biden's first foreign policy initiatives will be an effort to reverse the current administration's unilateralism. Part of rebuilding relationships with America's allies and partners will be consulting on China, to develop a consensus on areas where democracies can work collaboratively with Xi (such as climate change, North Korea, and health issues), as well as agreement on priorities which call for multilateral pressure on Beijing (civil rights, for example).
It is clear that other nations do not want Washington to force them to choose sides in a U.S.-China conflict, as the current administration has, in part due to economic realities. Last year, more than half of the U.S.' NATO allies, as well as Japan, South Korea, Australia and New Zealand, did more trade with China than with the U.S.
And few, if any, of America's allies and partners believe that they have the option to decouple from China, which accounts for a larger share of global economic growth than the U.S., Europe and Japan combined.
Those nations are likely to welcome a White House which will look for a more collaborative and constructive approach to the China challenge.
A healthier multilateral atmosphere will provide Biden with an opportunity to follow through with his campaign position on trade. He recently wrote that, "The wrong thing to do is to put our heads in the sand and say no more trade deals. Countries will trade with or without the United States. The question is: Who writes the rules that govern trade? Who will make sure they protect workers, the environment, transparency, and middle-class wages? The United States, not China, should be leading that effort."
Restoring the U.S.' leadership role in Asian trade negotiations would in my view contribute greatly to American prosperity and security. The recent absence of the U.S. from the region was highlighted a few days ago by the signing of the Regional Comprehensive Economic Partnership (RCEP) trade agreement, which covers 15 countries, including Australia, Japan, South Korea, New Zealand, Singapore, Indonesia and Thailand, as well as China.
On cyber security, the current administration seems focused on trying to stop Chinese tech companies from becoming globally competitive, an approach which is unlikely to succeed, or to protect the U.S. from the real cyber risks posed by the Chinese government. I expect the Biden administration to follow a path which is not ideological, and is based on scientific assessments of risks and on a rules-based approach to mitigating those risks. As Samm Sacks, a Senior Fellow at Yale Law School has written, "The United States would be wise to spend more time working on legislation and the development of standards to better protect privacy and secure data—not just in dealing with China, but for all companies."
And, when it comes to dealing with the threats posed by Chinese companies such as Huawei, I also expect a more science-based approach—hopefully designed in collaboration with key allies that follows the "small yard, high fence" concept promoted by former Secretary of Defense Robert Gates. If the U.S. shares its most sensitive signals intelligence with the other members of the Five Eyes alliance (Australia, Canada, New Zealand and the UK), doesn't it make sense to make cyber security decisions in partnership with those nations?
Most importantly, a less confrontational tone from Washington will give Xi an opportunity to decide if he too wants a collaborative and constructive relationship with the U.S. and its partners. Xi may take the opportunity to recall that the significant changes made by his predecessors who ran China during the decades where the bilateral relationship was characterized by "engagement"—everything from turning over most of the economy to market forces, to granting significant personal freedom to most Chinese citizens—led to a better life for its citizens, a stronger global role for the country, and domestic political support for the Chinese Communist Party.
Phase III: Concrete steps
Phase III will be the hard part, for both sides, and will probably develop gradually during the first two years of the Biden administration.
For Biden, a fundamental choice will be whether to turn away from the current administration's stick-focused approach, including tariffs and sanctions, which has been costly to the U.S. economy and has failed to generate change in China, and instead return to the more carrot-based, "engagement" approach that incentivized past Chinese leaders to adopt policies and practices more closely aligned with global norms.
It is important to remember that over the past 40 years, engagement between the U.S. and China did lead to progress. Most Chinese people have a healthier and more comfortable life, and enjoy far greater personal freedom. Beijing has supported the U.S. efforts to limit the spread of nuclear weapons, and to resolve the dispute on the Korean peninsula.
While the Chinese government has clearly not lived up to all of its WTO commitments, it has done enough to enable GM to sell more cars in China than in the U.S. Prior to the COVID-19 outbreak, Nike enjoyed 22 consecutive quarters of double-digit revenue growth in China. And China is especially important to the U.S. semiconductor industry. Profits from sales to China help finance continued R&D by America's tech companies.

Between 2001, when China joined the WTO, and 2017, U.S. exports to that market were up over 500%, compared to a 100% increase to the rest of the world. Prior to the current tariff dispute, China was the largest overseas market for American agricultural goods, up by 1,000% since they joined the WTO.
The structure of the Chinese economy has also changed for the better. When I first worked in China, in 1984, there were no private companies—everyone worked for the state. You couldn't even find a privately run restaurant. Today, almost 90% of urban employment is in small, privately owned, entrepreneurial firms.
Assuming Biden does want to adopt an approach based on engagement, there will be significant domestic political obstacles to getting the process underway. The current administration's tariffs are a good example. They've been costly to many American businesses and consumers, and have not generated pressure on China's leaders to make any structural changes, so lifting them makes sense. But some in Congress will expect Biden to ask Xi for specific concessions in order to remove the tariffs, while Xi is likely to feel no pressure to do so, given that China's economy, including its exports, has not been bruised by the "trade war." (China's share of global exports reached an all-time high this year.)
Most importantly, ending the demonization of China, and pursuing engagement in concert with U.S. allies and partners, especially in Asia, is the best way to make clear to Beijing that its policies and practices will have to continue to evolve towards global norms if China wishes to reach its full economic potential, and take a more prominent role in regional and global institutions.
Engagement is certainly not guaranteed to succeed, but it does provide the best way to offer Beijing a clear choice. The alternative, which treats the Chinese government as an enemy, is almost certain to lead Beijing to behave that way, which would leave the U.S. less prosperous and less secure in the long run.

Andy Rothman
Investment Strategist
Matthews Asia
As of September 30, 2020, accounts managed by Matthews Asia did not hold positions in Huawei Technologies Co., Ltd., General Motors Company and NIKE, Inc.